CAPE VERDE: AN ARCHIPELAGO THAT IS BEGINNING TO WAKE UP
A DESTINATION FOR ALL
Introduction Cape Verde Cape Verde is a small country whose capital is Praia on the island of Santiago who is independent of Portuguese colonialism in 1975 but still retains its heritage. As many countries were European countries colony possesses that rare blend of African roots and European rulers manifested in their culture, their traditions, their language, racial miscegenation ...

This archipelago located off the coast of Senegal in the Atlantic Ocean, is made up of many islands: Santiago and San Vicente are the most important, the others are San Antonio, Buena Vista, Fire, San Nicolas, Mayo, Sal, Brava and Santa Lucía which is uninhabited, (Ilha de S.Antao, Ilha de S.Vicente, Ilha de S.Nicolau, Ilha do Sal, Boavista Ilha, Ilha do Maio, Ilha de Santiago, Ilha da Ilha do Fogo and Brava) used to be during the eighteenth and nineteenth centuries the largest slave-trading center in Portugal and was a definite high for all the ships before crossing the Atlantic to the New World colonies.
Cape Verde Islands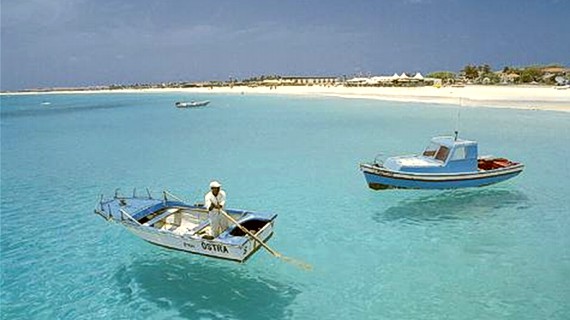 Located in the Atlantic Ocean are the islands of Cape Verde a little paradise fully discovered.
With an area of ​​4,033 square kilometers consists of ten volcanic islands and five islets.
The islands (according to their position on the wind) are divided into two groups: Windward and Leeward.
The Windward Islands are formed by: Boa Vista, Sal, Santo Antao, Sao Nicolau, Sao Vicente and Santa Luzia (uninhabited).
The Leeward Islands are formed by: Fogo, Brava, Maio, Santiago.

With a dry temperate tropical climate Saharan and low rainfall, Cape Verde has a temperature at which we could describe as perfect as it ranges from 20 ° C in winter and 25 ° C in summer, with an annual average of 24 ° C.
Despite low rainfall, the time of these are from August to October, being the dry season between the months of November to July.
You need to know that despite being a relatively new tourist place, we will be amazed what in this paradise we will find. More African islands (Santiago) and most European islands (Sao Vicente) all flavored nostalgia and Cape Verdean rhythms.

In this paradise full of contrasts, where pristine beaches mixed with other white sand, beautiful cliffs plains, where volcanoes sometimes seem to emerge from the abyss to show all its beauty, visitors will enjoy endless possibilities when to enjoy an unforgettable journey where you will enjoy hobbies such as diving, hiking, fishing, windsurfing or just go to the beach.
Each island is a journey in itself by the diversity of natural and urban landscapes and is a destination for everyone because it is possible to "do nothing" or do "everything" in these captivating islands.

There are places where they have landed the big companies of scheduled sightseeing but also remain untouched places where you can do and discover as our way of feeling the holiday: hiking, adventure tourism, ecotourism, contact with the inhabitants ...

The bonhomie of the Cape Verdeans and their special sense of time do we also have to learn to live at your pace and take it easy transportation disorders that exist in the archipelago. It is not unusual to think taking a boat across to another island about an hour and the game takes place ... at any time, the same "lateness" case of air ... and many places do not offer directly public transport service.
You reach Cape Verde plane from many cities in the world, all the islands have an airport but international most important are Sal (Amilcar Cabral International Airport), located 2 Km., 5 minutes from the town of Espargos and 20 minutes City of Santa Maria, Sal Island; the Praia on the island of Santiago and Mindelo on the island of San Vicente.

All the islands have airport (less the island of San Antonio so only you can access it by boat from the island of San Vicente 1 hour ferry- and Brava island that is reached by boat from the island Fuego) and domestic flights are carried out by the state line (TACV) that during the high season or in times of festivals or events see overwhelmed their capacity.
Many flights arrive from Dakar, Senegal and essentially no economic flights from several cities in Germany.
Transportation from the airport to the hotel is done by taxi and are quite expensive.
The shuttle on each island is somewhat chaotic but in the end're on vacation! it is best to hire a particular service to take us as we please and not rely on traditional services. Renting or four-wheel drive cars just beginning to develop in, and Fire Sal, San Vicente Santiago islands but it is doable always find a vehicle available.

Cape Verde offers accommodation possibilities according to our budget and our lifestyle or living the holidays, however differs from place to place. In some places find major hotels and the possibility of leasing houses or apartments but others find only modest pensions why we see the accommodations offered by centers of interest in a particular way.
Recall also that by its latitude Cape Verde has a tropical climate with two seasons constant heat and differentiated by the rains, "dry season" between November and July and "rainy season" between August and October, on the heights of the interior is cooler during night.
Cape Verde, officially the Republic of Cape Verde (Portuguese: República de Cabo Verde), is an island sovereign state of Africa, located in the Atlantic Ocean, specifically in the Macaronesian volcanic archipelago of Cape Verde, off the coast Senegalese. Its form of government is a semi-presidential republic and its territory is organized into 22 concelhos or municipalities. Its capital, and in turn the most populous city, is Praia.

The islands were uninhabited until they were discovered in the fifteenth century by the Portuguese, who proceeded to colonize to turn into a center of slave trade. Most of the present inhabitants of Cape Verde descends from both groups: settlers and slaves. The name of the archipelago comes from the Cape Verde Peninsula, the westernmost tip of the continent of Africa, near which the city of Dakar (Senegal) is. Its official language is Portuguese and the country is a member of the Commonwealth of speaking Countries Portuguesa.2